Is your Club or Group looking for an inspiring guest speaker or do you want to host a book signing? . . . Contact Woody today!
* * *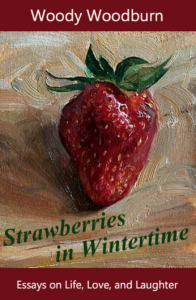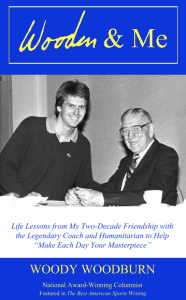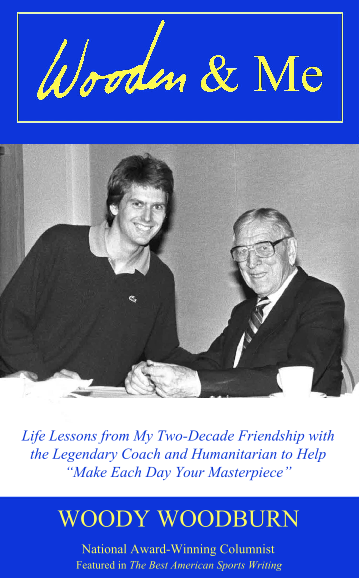 For a Personalized Autographed copy of "STRAWBERRIES IN WINTERTIME" or "WOODEN & ME" mail a check for $25 to:
Woody Woodburn
400 Roosevelt Court
Ventura, CA 93003
* * *
Today's Column is Overrated (and Underrated)
 My rating of ratings – be they customers on Yelp, consumers on Amazon, movie critics in a newspaper – is that they are overrated.
Nonetheless, I hereby offer a myriad of ratings. Specifically, a list of things that are either "overrated" or "underrated" in my view.
The word "myriad" is underrated and, thus, underused.
Word-of-mouth recommendations are underrated and overrated – it depends on the mouth.
Freedom of speech is underrated.
A free press is likewise underrated until it becomes threatened.
The Super Bowl is overrated, its commercials are overrated, the halftime ceremony is overrated – and yet when friends get together, Super Bowl Sunday as a whole is underrated.
Speaking of friends, a truly good one cannot be overrated.
Speaking of football, it pains me to admit this, but Tom Brady is not overrated.
Being able to turn on your faucet and safely drink the tap water is supremely underrated.
Bottled water is overrated – except when you are in a place where the tap water is unsafe, or simply tastes like minerals.
Libraries – public, school, in one's home – are underrated.
A walk on the beach, or in the woods, is underrated.
Doctors are generally rated just about right, I believe, but nurses are underrated.
Having a really good dentist is underrated.
TV is overrated, but public television and public radio are underrated.
Children's laughter cannot be overrated.
The goose-bump thrill of seeing great artwork in person cannot be overrated – a child's artwork held by a magnet on a refrigerator is likewise underrated.
Having a good mechanic, handyman or plumber is underrated.
Newspapers, be it print or online, are underrated.
Makeup is overrated by a myriad of women.
Holding hands, be it with a boyfriend or girlfriend, with a husband or wife, with a child or the elderly, is underrated.
Independent bookstores, quirky music stores, and cozy coffee shops are underrated.
Indie movies as a whole are overrated, but individually a myriad are underrated.
I always thought firefighters were underrated. After the Thomas Fire, despite their bravery and deeds that have fostered a greater appreciation by the public, I still think these heroes are underrated.
Gift cards are overrated – crisp cash tucked old-school inside a card, like my Aunt Shirley used to do when I was young, is the underrated way to give when you don't know what to buy.
Theme parks and roller coasters are overrated, but county fairs and Ferris wheels are underrated.
Congress received a 20-percent approval rating in the most recent Gallup poll. In other words, Congress remains overrated.
Email is overused, but underrated.
Handwritten notes, cards and letters sent in the mail cannot be overrated.
The Emmys as a show is overrated. Ditto the Oscars and Golden Globes and the rest.
It seems preposterous, given her record 21 Academy Award nominations, but Meryl Streep might be underrated.
The importance of raw talent is overrated while effort and persistence are underrated.
The value of having music and art education in our schools is grossly underrated.
Flowers in a garden are underrated; vegetable gardens are more underrated; and a blanket of wildflowers in a field even more so.
The durability of today's tires – on cars and bikes – is underrated, or at least underappreciated.
Fabric softener is overrated.
The importance of the thinness of a smartphone is overrated considering most people add a thicker protective case to it.
Thick towels are underrated.
The value of a compliment is underrated by the giver, but not by the person receiving it.
John Steinbeck is overrated. Just kidding, as I cannot help but return to his work time and again.
Farmer's markets are greatly underrated.
Strawberries in wintertime – the fresh locally grown fruit, not my book – are underrated.
Thursday's wee morning rare "Super Blue Blood Moon" lunar eclipse was overrated in the days leading up to it, but proved to be underrated in the moments of its splendor.
* * *
Woody Woodburn writes a weekly column for The Ventura County Star and can be contacted at WoodyWriter@gmail.com.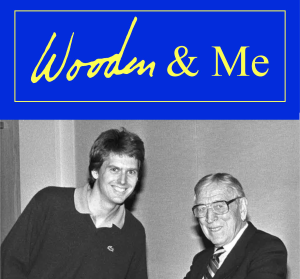 Check out my memoir WOODEN & ME: Life Lessons from My Two-Decade Friendship with the Legendary Coach and Humanitarian to Help "Make Each Day Your Masterpiece" and my essay collection "Strawberries in Wintertime: Essays on Life, Love, and Laughter" …