Is your Club or Group looking for an inspiring guest speaker or do you want to host a book signing? . . . Contact Woody today!
* * *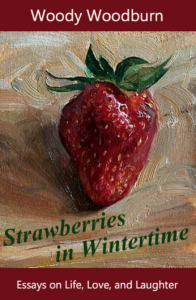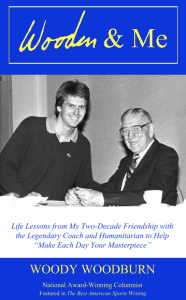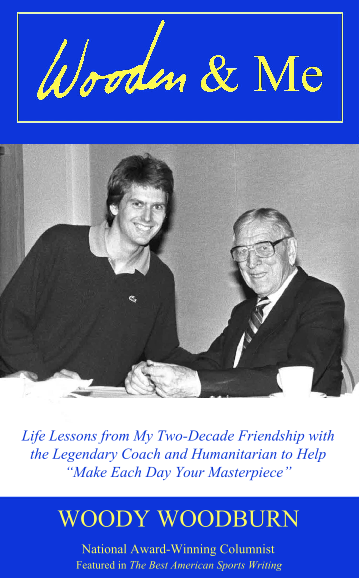 For a Personalized Autographed copy of "STRAWBERRIES IN WINTERTIME" or "WOODEN & ME" mail a check for $25 to:
Woody Woodburn
400 Roosevelt Court
Ventura, CA 93003
* * *
Local Westerns Author Finds Self in Non-Fiction Battle
Western novels do not enjoy the widespread popularity they did in the mid-20th century when Louis L'Amour was riding high in the author saddle. Still, the genre retains a loyal following.
Part of the appeal of "frontier stories," as L'Amour called them, is they offer an escape from a confusing grey world by providing fictional black-and-white-hat clarity; good guys and bad guys; right versus wrong.
And, of course, frontier stories offer a hero.
Such is the case with "Coyote Courage," the first in a trilogy – followed by "Coyote Creek" and "Coyote Canyon" – written by Thousand Oaks resident Scott Harris.
The hero in the "Coyote" series is Brock Clemons, the last name being inspired by the author's admiration for Samuel Clemens, better know by his pen name Mark Twain.
Brock also bears inspiration from Harris, although the author declines any similarities beyond their shared affinity for whiskey and cigars. Because I know Harris as a friend, I know he is being overly modest. He and Brock also share core values of truth and honesty, fair play and chivalry.
Two weeks ago, life imitated art when Harris found himself in a Brock-like plotline. Conejo Valley Unified School District board trustee Mike Dunn sent an email to Harris threatening to harm the reputation of his business, Mustang Marketing, if he did not silence employee Jessica Weihe. As a parent, Weihe has been critical of Dunn.
That has me on the same page with Weihe. I took Dunn to task last July for his role in not approving for the ninth-grade core literature list – thus, effectively banning – Sherman Alexie's national award-winning young adult novel "The Absolutely True Diary of a Part-Time Indian," or PTI for short.
Unbelievably, and irresponsibly, Dunn "banned" (would not approve) PTI despite admitting he had not read it. I did read it and it is terrific and well worthy of high school students' study and discussion. In Ventura County especially, where we have racial and economic diversity, PTI's themes are of paramount relevance and importance for our youth.
As for violence and sex – "pornographic" is the word Dunn has employed, and wrongly in disparaging PTI – the novel is tamer than most every prime-time sitcom on network television today. Moreover, every newscast and newspaper features more violence than this novel.
Suggestion: a school district's "opt-out" policy from reading an assigned novel should include the requirement that one of the student's parents first read the book – and answer a worksheet to ensure they did – so they do not make such a decision blindly.
Certainly the black-hat-wearing Dunn would have been wise to read "Coyote Courage" before picking a fight with Weihe. Had Dunn done so, he might have anticipated that Weihe's boss would stand up Brock-like to a bully on her behalf.
Not only in name but also in character is Brock Clemons inspired by Mark Twain, who said: "It is a worthy thing to fight for one's freedom; it is another to fight for another man's."
Brock does just that in "Coyote Courage" where he fights to save the town from outlaws. Importantly, Brock does not do so alone – he rallies the townspeople in Dry Springs to stand up with him.
In Conejo, "Brock" – that is, Scott Harris – fought for the First Amendment. He, too, did not do so alone – he rallied the community. The result this week was the censure of Dunn by the CVUSD board, and by a unanimous 4-0 vote.
By the way, the title of Harris' debut novel refers to a coyote's trait of attacking anything that is weaker than it is. Or, if the foe is larger and stronger, coyotes will attack only if they have the adversary greatly outnumbered. Hence, to have the courage of a coyote is to cowardly avoid a fair fight.
Life imitates art: when the fight came Tuesday evening at the school board meeting, Dunn was a no-show.
* * *
Woody Woodburn writes a weekly column for The Ventura County Star and can be contacted at WoodyWriter@gmail.com.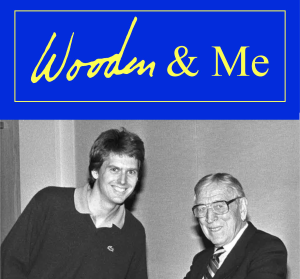 Check out my memoir WOODEN & ME: Life Lessons from My Two-Decade Friendship with the Legendary Coach and Humanitarian to Help "Make Each Day Your Masterpiece" and my essay collection "Strawberries in Wintertime: Essays on Life, Love, and Laughter" …