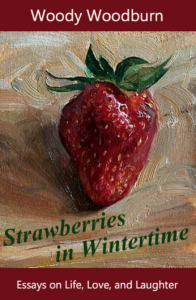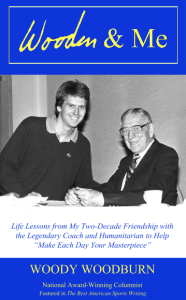 For a Personalized Autographed copy of "STRAWBERRIES IN WINTERTIME" or "WOODEN & ME" mail a check for $25 to:
Woody Woodburn
400 Roosevelt Court
Ventura, CA 93003
* * *
This, That, and Other iConfessions
It seems there's a smartphone app for just about everything. For iPhone users, this includes a download approved by the Catholic Church that coaches people through a practice confession of their sins before going to a real confessional booth.
The creators didn't ask me, but instead of calling it "Confession: A Roman Catholic App" I think they should have dubbed it "iConfess."
By the way, iConfess I think the app is a waste of $1.99.
*
I am not Catholic, nor do I have a new iPhone X, but iConfess I would probably owe a few Hail Marys penance for my verbal reaction if I did own one and dropped it – seeing as that the repair cost for a broken screen is a whopping $279.
Apple didn't ask me, but I think it should throw in a free "Confession: A Roman Catholic App" with every iPhone X.
*
iConfess to sometimes cursing poor customer service, including by the U.S. Postal Service, Federal Express and United Parcel Service for committing various sins to letters, magazines and packages.
Fair being fair, I must also praise UPS – specifically, one of its delivery drivers who knocked on my front door at 9 p.m. earlier this week.
It seems a large package for me had erroneously been loaded onto the wrong truck and thus would not get delivered until the following day.
However, when this driver learned about the mistake from his boss, he offered to personally drop the parcel off on his own time on his drive home from work.
By the way, the friendly driver was a millennial – a group that is too often maligned for being self-centered and lazy.
*
Speaking of maligned groups, people often complain about Caltrans for its slow progress on projects or having four people supervising two people who actually appear to be working.
iConfess I have similarly grumbled, but Caltrans merits our deepest thanks and highest praise for the Herculean job its workers did toiling tirelessly around the clock to clear away more than 100,000 cubic yards – 12 feet deep in some places – to reopen Highway 101 in less than two weeks following the monumental mudslides in Montecito.
No one asked me, but I think we all need to keep this in mind the next time roadwork causes traffic to slow to a crawl and has our impatience racing.
*
iConfess to liking most of Kevin Costner's movies, have loved his performance in a number of them, but the role I most admire him for is as a loyal and generous hometown boy. Very few big-time actors are able to genuinely pull that off.
*
While it is indeed good news, iConfess that we have flat-out gone statistic crazy when The National Oceanic and Atmospheric Administration reports a new record being set of 246 consecutive days since a person in the U.S. was killed by a tornado.
Hey NOAA, what's the record for jellyfish stings in the U.S. on a single day? On a Wednesday? On a Wednesday in April?
*
iConfess to being fed up with magazines that use technology to print different covers for newsstands and subscription editions, yet insert two, three, even six annoying new-subscription postcards inside a magazine sent to someone (me) who already subscribes to it.
*
Speaking of print periodicals, my favorite is Patagonia's catalogue (pronounced "magazine") as each new edition is filled with stunning outdoor photography as well as well-written feature stories about inspiring people, the environment, travel, wildlife, and more.
*
iConfess to disliking (pronounced "despising") the New England Patriots.
*
Lastly, iConfess to having no interest in buying an Amazon Alexa that can play music, look up recipes, order groceries, control the thermostat and lock doors, give news and weather updates – including how many consecutive days since a person was killed by a tornado in the U.S. – and more, all by voice command.
Unless, that is, I could say, "Alexa, write next week's column for me."
* * *
Woody Woodburn writes a weekly column for The Ventura County Star and can be contacted at WoodyWriter@gmail.com.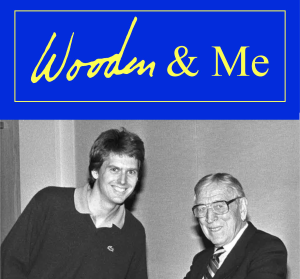 Check out my memoir WOODEN & ME: Life Lessons from My Two-Decade Friendship with the Legendary Coach and Humanitarian to Help "Make Each Day Your Masterpiece" and my essay collection "Strawberries in Wintertime: Essays on Life, Love, and Laughter" …