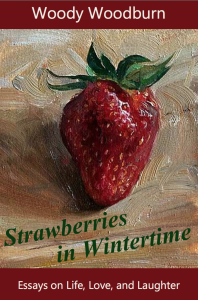 Woody's new book STRAWBERRIES IN WINTERTIME: Essays on Life, Love, and Laughter is available for Pre-Order HERE NOW! In time for the holidays!
*   *   *
Never Too Late to Thank a Teacher
Some things never change. I have been out of school for three decades, but once more I am turning in an assignment late. California's 17th annual Retired Teachers Week was last week.
Um, my dog deleted my laptop doc.
Seriously, even belatedly is a good time to reach out by letter, email, phone or Facebook to let your own favorite teachers – retired or not – know the impact they had on you.
If, sadly, they have passed away, then honor them by mentoring someone else – for, as John Wooden said: "Mentoring is your true legacy. It is the greatest inheritance you can give to others."
Like most of us, I was blessed with some terrific teachers including a select few true life-changers. One such benefactor was my sixth-grade teacher, Mrs. Hutchings, who challenged me to be a leader with my voice not just my actions.
"I would like to see Woody be less of an independent entity in the classroom and more inclined to lead his fellow man," she wrote on my report card in 1972. Part of my difficulty was that for the first time ever neither of my two best friends, Jim Hendrix and Dan Means, was in my class.
Kindly, Mrs. Hutchings also offered written praise: "Woody has a delightful sense of humor and a sense of fair play that is very unusual for his age."
According to that report card, math was my strong suit while English was my shortcoming: "Woody does an outstanding job on reports but his vocabulary words and spelling limit his grades."
Despite these deficiencies, Mrs. Hutchings encouraged me to be the editor of the "newspaper" she helped our class publish that spring. Perhaps this was also her way of nurturing my leadership growth.
Perhaps, too, her mentorship is responsible for you reading these words today.
Long after I last left her classroom, I received a letter out of the blue from Mrs. Hutchings, by then retired. She had seen my long-form feature "The Toughest Miler Ever" about American Olympian, World War II hero and POW survivor, Louie Zamperini, that appeared in The Best American Sports Writing 2001. She complimented the piece and said she was pleased and proud to learn I had become a writer.
I wrote back and told her, much too belatedly, that she had been a special teacher in my life. I also shared the words Coach Wooden had sent to me in response to the first of many columns I would write about him: "Although it is often used without true feeling, when it is used with sincerity, no collection or words can be more expressive or meaningful than the very simple word – Thanks!"
In middle school, Harold McFadden was another life-changing teacher. I had "Coach Mac" for Physical Education in five of my six semesters at Balboa Junior High. More than sports, he taught me about goal setting, believing and achieving.
As often happens, even with our dearest mentors, we fall out of touch and such was the case with Coach Mac. It saddens me that I did not stop by my old school to see him during my visits home to Ventura after I went off to college and beyond. Now, curses to cancer, it is too late.
For the most part, the names of my teachers at Balboa, Buena High and UC Santa Barbara have faded from memory. Three – one from each school – who remain indelible for their lasting impact are Mr. Howell, an inspiring metal shop teacher; Joe Vaughan, a role model in all ways; and John Ridland, an English professor who broke down the poetry of Robert Frost and more importantly built up my confidence as a writer.
My Favorite Teacher Ever, however, the one who in the words of Frost truly "made all the difference," was in my post-graduate studies "Life 101" class taught by Professor John Robert Wooden.
Wooden preferred to be thought of as a "teacher" not a "coach." By either title, none taught me more – or more-important things – than he. I am thankful I told him so before it was too late.
*  *  *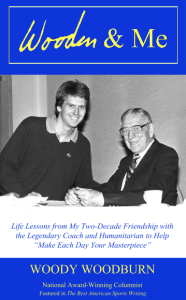 Woody Woodburn writes a weekly column for The Ventura County Star and can be contacted at WoodyWriter@gmail.com.
Check out my new memoir WOODEN & ME: Life Lessons from My Two-Decade Friendship with the Legendary Coach and Humanitarian to Help "Make Each Day Your Masterpiece"