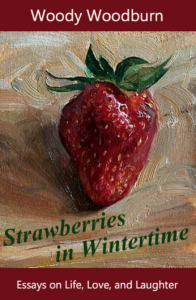 Woody's highly anticipated new book "STRAWBERRIES IN WINTERTIME: Essays on Life, Love, and Laughter" is NOW available! Order your signed copy HERE!
 * * *
Hitting the Books and Backboards
            Aristocles would love the Moorpark High boys' varsity basketball team.
Better known as Plato – the nickname given him by his wrestling coach, from the Greek word for broad, platon, because of his wide shoulders – Aristocles famously preached "a healthy mind in a healthy body."
The Musketeer varsity hoopsters' healthy combined 3.611 grade point average for 2016-17 made them the CIF-Southern Section Academic Champions for all boys' basketball teams from schools with enrollments above 1,500 students.
Being No. 1 in the classroom, and being honored at the Angels' baseball game at Anaheim Stadium on Wednesday, took some of the sting out of a 3-23 record on the court.
The attitude to hit the books as hard as the backboards begins with head coach Blake Jenkins.
"I definitely preach academics and being a model citizen," Jenkins shares. "I try to hammer home that basketball and athletics need to take a backseat to academics as well as how we conduct ourselves off the court, in the classroom and out in society."
Jenkins' sermons resonate with his entire congregation as evidenced by all 45 players in the boys basketball program combining for a GPA north of 3.0.
Below are some of their thoughts on being STUDENT-athletes.
*
"I believe academics and sports have a great relationship," says sophomore Harrison Hanlon, a frosh/soph shooting guard with a 3.8 GPA. "Academics teach me to make a goal and be smart on the court, and the court teaches me to be a hard worker in the classroom.
"The CIF Academic reward is a better reward for our personal futures and future of the program than just a mere league win."
*
"I believe that being a good student and performing in academics go hand-in-hand," agrees freshman Arvin Hosseini, a frosh/soph guard with a 3.7 GPA.
*
"In my opinion, if you want to play a sport you need to have great study habits and time management," says Jacob Korotzer, a sophomore JV center with 3.6 GPA.
"The next thing you need is to is be devoted to the sport – or to anything you do in life."
*
"In my family, academics come before basketball," says freshman Jonathan Saiki, a frosh/soph point guard sporting a 4.0 GPA. "If I don't keep my grades up then I am not allowed to play basketball.
"Sports teach me about hard work and effort which translates to the classroom in the form of studying hard and giving effort in class.
"To be a committed student-athlete, I have to sacrifice hanging out with my friends and free time. I sometimes have to stay up late doing school work, but it is worth it in the end."
*
"Academics teach you responsibility and school comes before sports," says freshman Noah Martinez, a frosh/soph center with a 3.8 GPA.
"The sacrifices I have to make to be a student-athlete are sacrificing my time and energy, but I don't regret it for one second."
*
"I think tests are like games in sports because they are actually both tests for how hard one practices or studies," says junior Branden Johnson, a JV forward with 3.8 GPA.
"Passing a test is like winning a game and failing a test is like losing.
"One sacrifice I had to make to be a committed student-athlete was to give up watching TV completely and it helped a lot. To me, academics come first, then sports."
*
"All my life, I was told that education is the most important thing you can acquire," says junior Matt Aung, a varsity forward with a 3.7 GPA.
"The way you treat people and how you give back to the community is also very important. The feeling of self-satisfaction in knowing that you contributed to someone's happiness and well-being is hands-down the best feeling out there.
"And I firmly believe I, along with the other eleven guys on our team this past year, are smart and young individuals – but more importantly, great people."
*
Plato's response, I imagine, might be: Gratulatione. Vehementi factum. Congratulations. Smartly done.
* * *
Woody Woodburn writes a weekly column for The Ventura County Star and can be contacted at WoodyWriter@gmail.com.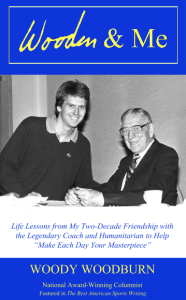 Check out my new memoir WOODEN & ME: Life Lessons from My Two-Decade Friendship with the Legendary Coach and Humanitarian to Help "Make Each Day Your Masterpiece"
Save
Save